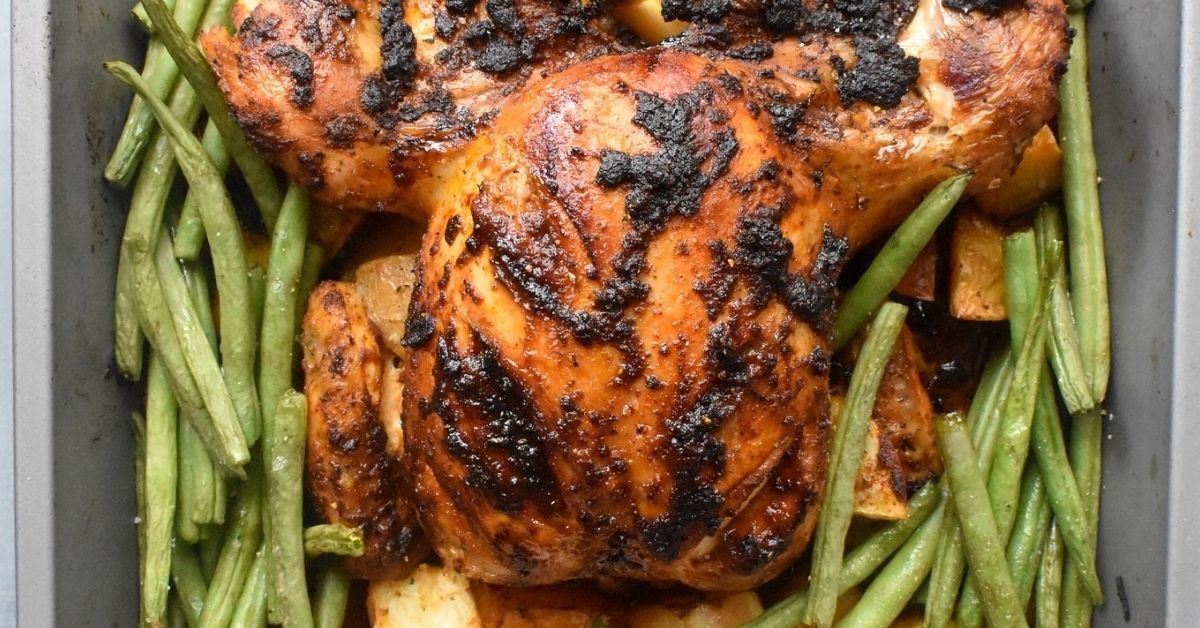 DEVIL DUST ONE-PAN ROAST CHICKEN

We teamed up with Manesh, who works within a university, as an international officer. In his spare time, Manesh runs his food Instagram page @farmowcooking. Manesh has a passion for cooking and likes sharing his work with the world. Inspired by his love of travel, Manesh likes to adapt local delicacies to provide new culinary experiences for his audience. Manesh created the "Devil Dust One-Pan Roast Chicken" using our Devil, Cajun and Jerk Dust Mix. This is a perfect Sunday roast recipe for the family.
Summary of Cooking
Ingredients
•

1 small whole chicken



•

2 heaped tablespoon Seasoning (Devil, Cajun and Jerk.) + 1 tbsp of Devil Dust for potatoes



•

2 tbsps oil



•

1 heaped tablespoon tomato puree



•

1 tsp garlic



•

juice of half a lemon



•

4 medium potatoes, cubed



•

200 g green beans



•

1 tbsp runny honey
Method


• Mix the seasoing, oil, tomato purees and garlic in bowl and then spread over the chicken. You can leave this to marinade for an hour or so



• Place the chicken on a baking dish and then bake covered for 20 mins at 180℃



• After 20 minutes, remove the foil and add the potatoes. Drizzle with oil and cook for 50 mins.



• 10 mins before the end, add the green beans and brush the chicken with a little honey



• Bake for 10 mins at 190-20c until caramelised.